Which Direct Booking Incentives Actually Work?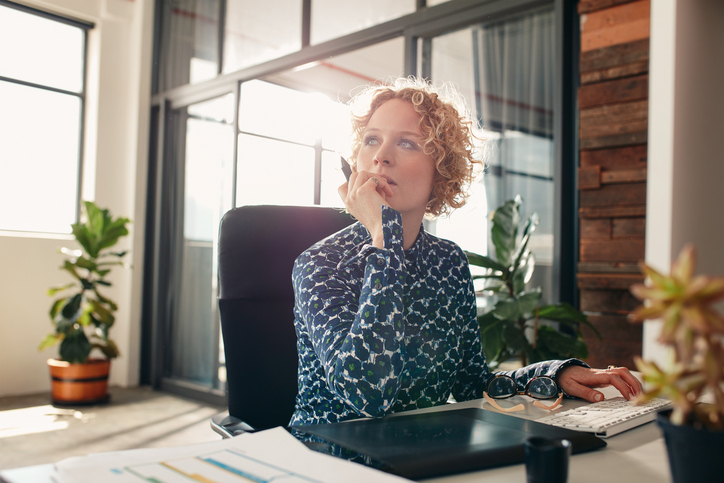 As hotel and resort owners strive to improve margins by reducing the cost of guest acquisition, hotel marketers are increasingly focused on driving direct hotel bookings, with the major brands spending millions annually to evangelize the benefits.
And according to experts, brand.com sites are already seeing strong returns on these initiatives—although it will take years of ongoing effort to achieve a broad consumer shift—so the question is: What's specifically working right now to motivate consumers to book direct?
Surely, promoting a direct booking strategy begins with understanding that different incentives and messages are effective for different chain scales and geographies. What works for a large resort in California may be very different than what is effective at a select-service property in downtown Cleveland.
That's why it's so vital to separate the actionable items from the generalities.
Whichever direct booking incentive you choose, remember that success hinges upon creating perceived value to stimulate bookings. You don't need to reinvent the wheel at your hotel to do it—you can showcase proven, every day offers and amenities—as long as you spotlight those perks across all your direct channels, these offerings are often perceived by guests as exclusive to the direct channel, which may make the crucial difference when competing for bookings. Remember: OTAs have to manage thousands of properties, its difficult to impossible for them to keep up with every offer at every hotel.
Looking across our diverse portfolio, we evaluated which book-direct benefits have a low cost, but a high perceived value to guests.
Here's what we found:
1. Enhanced On-Property Experiences:
Many properties offer differentiated on-property services and experiences to direct bookers, such as club-level access, room upgrades or late checkouts. These are powerful differentiators that hotels can offer, but OTAs cannot. It's an important distinction to capitalize upon, since there will always be certain benefits that can only be provided by those directly managing the hotel.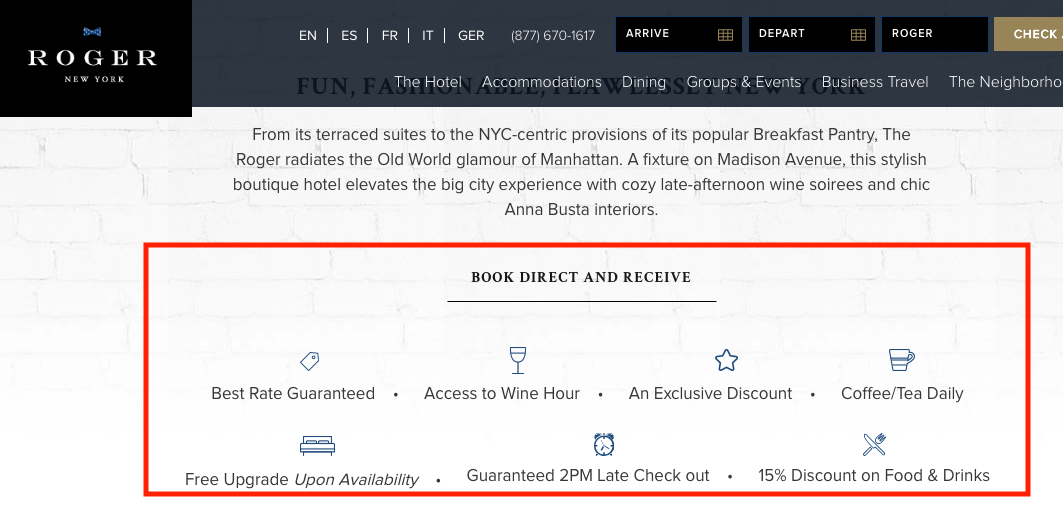 "Hotels are able to offer more than just points through their loyalty programs," said Mark Carrier, president of B.F. Saul Hospitality, in a recent article in Hotel Management. "By virtue of operating their properties, hotels are able to alter the stay for loyalty members in tangible ways that third parties simply cannot. There are very significant benefits that are delivered to the frequency club members, and those are often worth more than points. OTAs are very smart, aggressive, focused and well-financed, but hotel operators still have the physical properties."
2. Enhanced Digital Experiences:

Big brands now offer loyal consumers greater control of their digital travel journey right from the start, with features like the ability to pick their own room, check-in by phone and even use their phone to unlock their room, if they use the brand's mobile app. These advanced functions—not available to guests who book on third-party sites—are highly effective at driving direct bookings, especially among time-starved, tech-centric, road warrior business and "bleisure" travelers.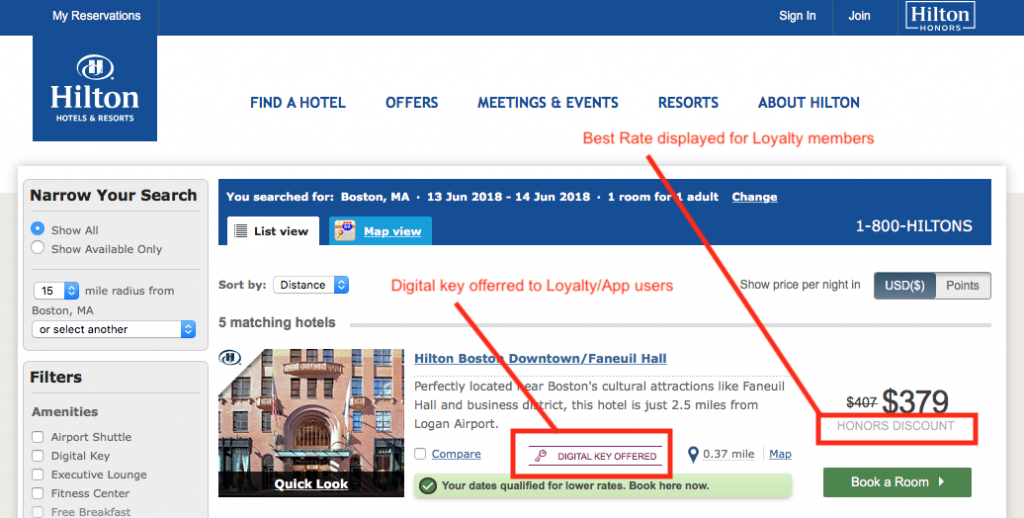 3. Loyalty Rates & Points;
According to hotel loyalty marketing expert David Feldman, loyalty programs can do many things, such as:
Preventing customers from switching / defecting to competitors;

Provide insights into consumer preferences;

Drive incremental spend and increased demand;

Increase share-of-wallet;
So its no wonder this is the largest and most common of the direct booking incentives used by hoteliers.
Big brands, soft brands and collections have enjoyed tremendous traction by offering "closed-group" rates to loyalty members. These discounted rates enable hoteliers to offer parity-busting room rates, without violating their OTA contracts. Such incentives—although costly and not necessarily sustainable—are the primary reason most industry experts agree that Hilton and Marriott's large-scale campaigns will be successful in the long-term at driving loyalty.

And even at a discounted rate, these direct bookings are still more profitable than OTA bookings, according to Kalibri Labs research. In, "Book Direct Campaigns: The Costs & Benefits of Loyalty," its study of 2016 direct booking campaigns, Kalibri found that the net average daily rate (ADR) of discount loyalty rates was 8.6% higher than the net ADR of rack rates on OTAs. Loyalty memberships—stimulated in part by points—are also a crucial overall provider of direct bookings volume, with four to six of every 10 room nights booked at upper midscale, upscale and upper upscale hotels driven by loyalty members, according to the report. Loyalty contribution rates appear to be directly linked to growth in loyalty membership, which the study says increased 30% to 40% from 2015 to 2016.
4. Fear:

Rather than showcasing tangible incentives or discounts, some properties choose instead to remind consumers of the dangers of booking anywhere else but direct.
This can be highly effective, too, since many consumers (especially older ones) have preexisting concerns about third-party bookings and fear that one mishap with an OTA could completely disrupt their long-awaited travel plans.
To leverage this effective emotional/psychological edge, hotels should remind prospective guests at every opportunity (are you listening call center managers?) that their direct websites and call centers are 100% dedicated to handling the needs of their property. Meanwhile, you can honestly explain to customers how OTA booking engines and their call centers are servicing tens of thousands of properties, including your competitors.
5. Best Rate Guarantees:

Best Rate Guarantee badges are nice, but many consumers have become desensitized to those innocuous graphics and believe OTAs vast array of hotels guarantees lower prices.
Savvy hotel marketers are talking things to the next level: advanced tools that display OTA rates on your hotel website (and inside your direct booking engine) have become a popular and effective method of deterring shopping cart abandonment and inspiring direct bookings. Widgets like TripTease are a wonderful addition, yet they still lack the connectivity to actually change your direct rates when a lower rate is detected on an OTA. Instead, TripTease simply reports the disparity to you and then requires you to track down and resolve the OTA disparity.
SHAMELESS PLUG: Hotel tech vendors (including Tambourine 😉 with real website/CRS integration can automatically display OTA rates AND update direct rates in real-time when they are higher than the OTAs' often inexplicably lower prices.

6. Thematic Destination Incentives:

This is a great opportunity to offer book-direct benefits that correlate with the hotel's unique story, geography or theme. For example, hotels near Disney may offer discounted or free park passes; or mountain resorts may offer discounted ski lift passes. Smart hoteliers are also positioning themselves as the authentic epicenter of their destinations, by offering curated city guides/maps (and in some cases, actual tour guides!) to direct bookers. Such direct-booking benefits work because they are relevant to the typical guest persona and they reinforce the hotel's theme and/or geography.
---
About Tambourine
Tambourine uses technology and creativity to increase revenue for hotels and destinations worldwide. The firm, now in its 34th year, is located in New York City and Fort Lauderdale. Please visit: www.Tambourine.com