Friday Freebie: Three easy ways to tighten the bond between marketing and revenue management
Welcome to the Friday Freebie!
Welcome to the Friday Freebie! Each week we share one impactful hotel marketing tactic that you can implement immediately to drive more direct bookings.
This week's Freebie:
The days of hotel marketers and revenue managers working in separate silos are over. Opening up dialogue and combining intelligence between these two departments are the first steps towards becoming a profit powerhouse.
Here are three tips from industry leaders to optimize the connection between departments and keep them working in sync:
1. Give Each Other a Seat at the Strategy Table

Bring revenue managers to marketing strategy meetings and vice versa. Each should be on hand when planning future pricing and marketing campaigns. Feedback between the departments should be fluid and open. "If marketing and revenue management teams don't communicate, they can end up working at cross purposes," says Jennifer Pochedly, corporate director of revenue management at OLS Hotels and Resorts. "Communication is absolutely critical to success."
2. Educate Yourself on Your Counterpart's Work

"Today, revenue managers are tasked to think like marketers and marketers need to think like analysts," says Misty Wise, corporate director of ecommerce strategies at Atrium Hospitality. "Take the initiative to learn about trends, principles, and tactics. Spend time understanding your counterparts and it will enhance strategy and drive results."
3. Share All Data and Metrics
Johnathan Capps, Vice President of Revenue at Charlestowne Hotels, says it's critical for the revenue management department to share data that can help the hotel or resort marketing team target customers more effectively.
Which dates, segments, seasons, and channels are performing the best? Which rooms are bringing in the most revenue?  "Make sure the revenue management and marketing teams regularly review all the data, not just the metrics from their own departments. Everyone should be on the same page."
For more: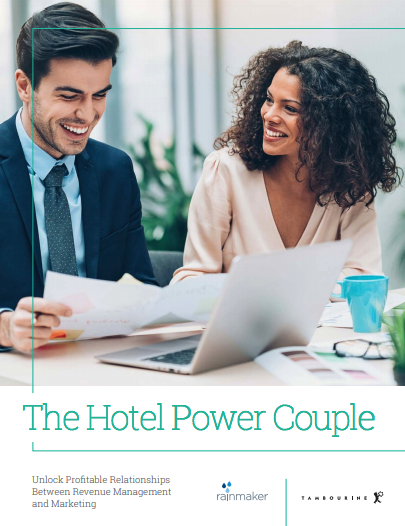 Download The Hotel Power Couple ebook and find out how revenue managers and hotel marketers can partner up to enhance hotel revenue opportunities.
---
About Tambourine
Tambourine uses technology and creativity to increase revenue for hotels and destinations worldwide. The firm, now in its 34th year, is located in New York City and Fort Lauderdale.
Please visit: www.Tambourine.com