The rising cost of hotel PPC…and what to do about it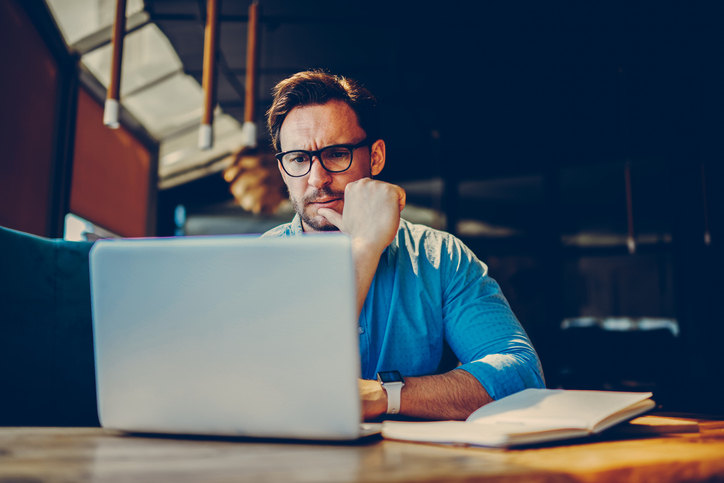 As owners and asset managers struggle to offset the rising costs of debt service, brand fees, energy, staff and insurances, marketing costs have also come under intense scrutiny. For many hoteliers, reducing the cost of guest acquisition is the only way forward to improving margins.
Unfortunately, the cost of one of the most popular marketing tools available to hoteliers continues to rise.
In just a short amount of time, we've seen dramatic surges in search engine marketing pay-per-click (PPC) costs (especially on Google), burning holes in hotel marketing budgets around the globe.
PPC is an advertising system where hotel marketers pay only when an online user clicks on the hotel's ad, regardless of how many times the ad was shown. A search engine, like Google, runs PPC ads using an auction of search phrases. The highest bidder of a search term gets the most prominent position on the SERP (search engine results page).
Incredible benefits… but at what cost?
PPC has become standard for most hotels and often consumes the majority of a hotel's digital marketing budget. From a small boutique property on Venice Beach to a Hilton in Chicago, branded to independent, hotels across the globe rely on PPC as their default channel to generate traffic from customers whose search activity demonstrates a clear intent to purchase.
Paying only when prospects are taken to your website is a revolutionary concept that's disrupted the advertising world, destroyed the print media business and made Google one of the most valuable companies in history… but hotel marketers are attracted to it for other reasons as well:
PPC is focused on guests at the bottom of their purchase funnel journey

Hotels are charged only when someone clicks… which means their ads appear to relevant searchers for FREE. These repetitive "impressions" also have value
Each click can be tracked to measure ROI from online bookings and phone calls
PPC campaigns preserve clicks that might otherwise go to 3rd

parties "squatting" on your hotel name. Any OTA or competitor can bid on your keywords and even your hotel brand name. In fact, they most likely already are (just look up your hotel name and see what websites come up on top of the SERPs).
Budget Busting Costs
Unfortunately, these benefits come at a price tag that will continue to climb dramatically.
"Since 2012, we've seen more volatile fluctuations to Google CPC (cost per click) costs for both branded and non-branded keywords in certain markets," said Shannon DeFries, director of digital strategy & optimization at Tambourine. "Most hotel's branded keywords have become much more expensive."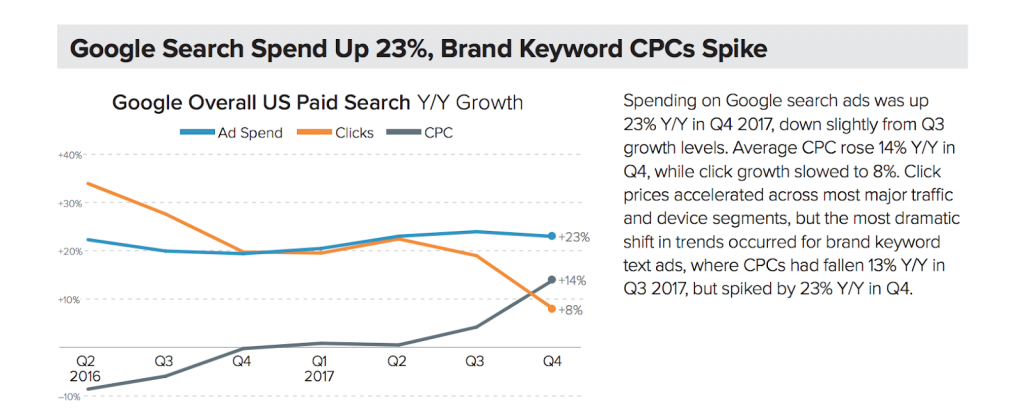 What's behind your hotel's skyrocketing CPC prices?
And, what can you do to combat these costs so that they don't eat your entire marketing budget?
DeFries maps out the reasons behind the rapid inflation:
1. Google Continues to Raise the Minimum CPC

Google can set minimum cost-per-click (CPCs) however they'd like.
And, their algorithms do it automatically. The minimum CPC to appear on the top of the search results page (SERPs) is not your actual rock bottom CPC, but the floor of your bid.  Even if your hotel doesn't have any competition for top of page Ad rank for a particular keyword, Google's minimum CPCs can drive up your CPC for that keyword. This essentially allows Google to increase your hotel's overall cost by raising the minimum CPCs.
2. Changes in SERP Layout
Changes to the way Google displays organic (non-paid) search results have made even harder to show up on the first page of search results, even for your own branded hotel name.
This traces back to 2015 when Google removed its signature right hand rail ads. Then, it began to hyper-commercialize its SERPS, placing 3-4 ads at the top of organic search results. These ads now push organic search listings further down, leading to less organic clicks and more competition for the top-of-page ad spots.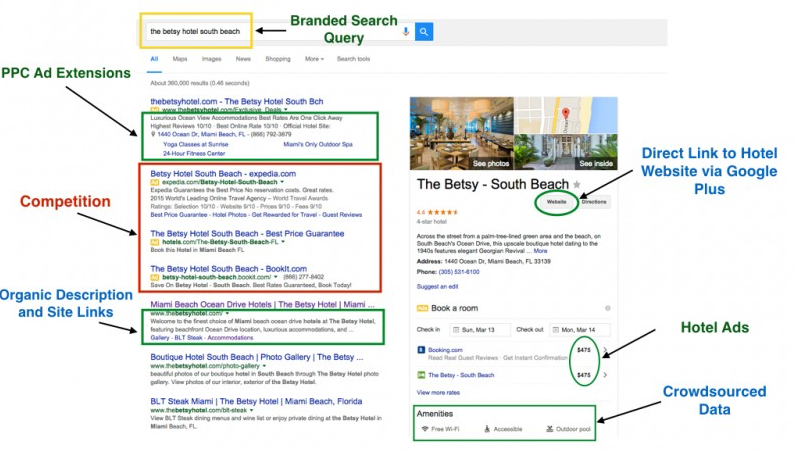 3. Spiraling Competition
Because search engines play a role in almost every online hotel booking journey, PPC is the default tool of not only every hotel, but also OTAs and sites like TripAdvisor. "These third parties bid aggressively on hotel's brand keywords, forcing hotels to keep up in order to create direct traffic and booking revenue," DeFries said. This means the more your competition bids for your brand name, the higher you'll have to bid, and so on, driving the rising spending spiral.
4. Ad Groups With Overlapping Keywords
While you can't change Google's SERP formats, you do have control over this common scenario that essentially pits you against yourself.  "When running multiple ad groups and campaigns, avoid driving up your own costs or bidding against yourself by ensuring there are no overlapping keywords," warned DeFries.
5. Poor Quality Scores
Quality scores determine if your hotel will pay more or less than your competition for higher ad positions. To garner higher Quality Scores, you need to maximize the quality of your landing pages. This means the relationship between your keywords, your ad text, and your landing page have to be in tight harmony. If your search term for 'Boston wedding venues' leads simply to your homepage or your sales 'contact us' page where there is scant mention of weddings, this will lead to a lower Quality Score and inflated CPC prices.
How to Combat Rising Hotel CPC Costs
What can you do to offset these increases and lower your hotel's PPC costs?
1. Perfect your landing experience
Since competing hotels are competing for your same exact match keywords make sure clicks lead to a relevant and compelling destination landing page experience. Here's an example of a visually arresting PPC landing page from The Whitehall in Houston: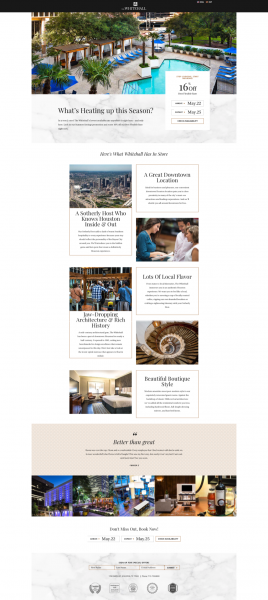 2. Leverage Extensions
First, max out all possible Google Adword extensions, where you can offer more hotel details beyond the basic ad headline and hotel copy. The idea is simple: The more real estate you take up with your ad, the more your hotel ad will stand out and get clicked on.
3. Dial Down Keyword Bids
If you're still paying more than you'd like, despite having solid copy, robust ad extensions and quality landing pages, try peeling back on your bids. Tweak to test how much you can lower your CPC without compromising on the number of clicks.
4. Monitor Progress
Scrutinize your search query reports to identify which keyword variations are working and which aren't. Plus, monitor and optimize as needed based on auction insights within the AdWords platform.
5. Continuously Add to Your Negative Keyword List
Eliminate terms that likely cause irrelevant or negative clicks that are unlikely to convert into a booking. For example: if you are paying to show up in search results for "hotels in cleveland," make sure you add words like "Cheap," "discount" or "free" to your negative keyword list.
6. Consider Other Options
Look into other efficient methods of targeting non-branded keywords, including RLSA (remarketing list search ads) and AdWords Express. Also, consider other platforms such as programmatic retargeting, as well as meta-search advertising channels like Google Hotel Ads, Tripadvisor, Trivago, Kayak or Wego.
---
About Tambourine
Tambourine uses technology and creativity to increase revenue for hotels and destinations worldwide. The firm, now in its 34th year, is located in New York City and Fort Lauderdale. Please visit: www.Tambourine.com