Welcome to the Friday Freebie!
Each week we share one impactful hotel marketing tactic that you can implement immediately to drive more conversions and revenue. 
This week's Freebie: Every marketing campaign should lead to a corresponding landing page.
So, you've come up with a creative marketing idea to draw in winter bookings. You create catchy marketing emails and witty social media posts to lead people back to your website.
But, beware: This is where your audience can fall off.
Avoid confusion and abandonment by leading visitors to a page that shows the same offer, the same design, the same branding as your ads or email promos.
If you simply lead prospective bookers to your homepage or directly to your booking engine and assume visitors will just take it from there, you're sorely mistaken. Most often they will abandon your site and head elsewhere.
Even the smallest of differences can be jarring to the customer and will slowly chip away at the trust that you worked so hard to establish. So, keep things consistent to boost both customer trust and conversion rates.
Instead, all hotel advertising campaigns should lead visitors to a custom landing page offering more details and a compelling call-to-action.
Check out this example from Charlestowne Hotels and see how their Cyber Monday email campaigns lead visitors to a correlated landing page:

Email promo for Cyber Monday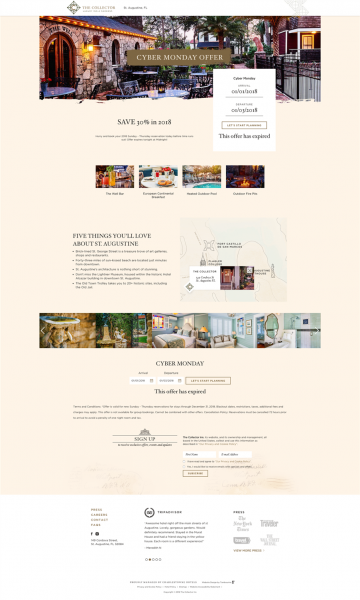 Correlated landing page with same offer, branding and prominent call to action
Get more: 10 Commandments of Hotel Email Campaigns
---
About Tambourine
Tambourine uses technology and creativity to increase revenue for hotels and destinations worldwide. The firm, now in its 34th year, is located in New York City and Fort Lauderdale.
Please visit: www.Tambourine.com