Every font and typeface carries its own personality.
Font and typeface personality is a powerful design and marketing tool. The overall style of the font can illustrate a number of things...Maybe your brand is modern, or maybe it's old-fashioned.
Font selection helps tell that story. For example, how thin or thick the typeface is can make the brand feel more high-end or more approachable.Careful font and typeface selection has the responsibility to set the overall brand tone, and the opportunity to extend the brand story far beyond the four walls of your hotel.
Here, The Fairmont Scottsdale Princess takes us on a journey through the desert. The font selection and typeface tell a story.
Font selection is not an easy task. For starters, you're not only selecting one font; you're carefully selecting a few fonts that pair well together in a variety of usages to strengthen the desired emotion.
Font selection goes hand in hand with your brand identity. It answers important questions about your target audience and can even suggest where your hotel is located. Here are a few examples of fonts in action:
Here are the fonts we selected for SOHO 54…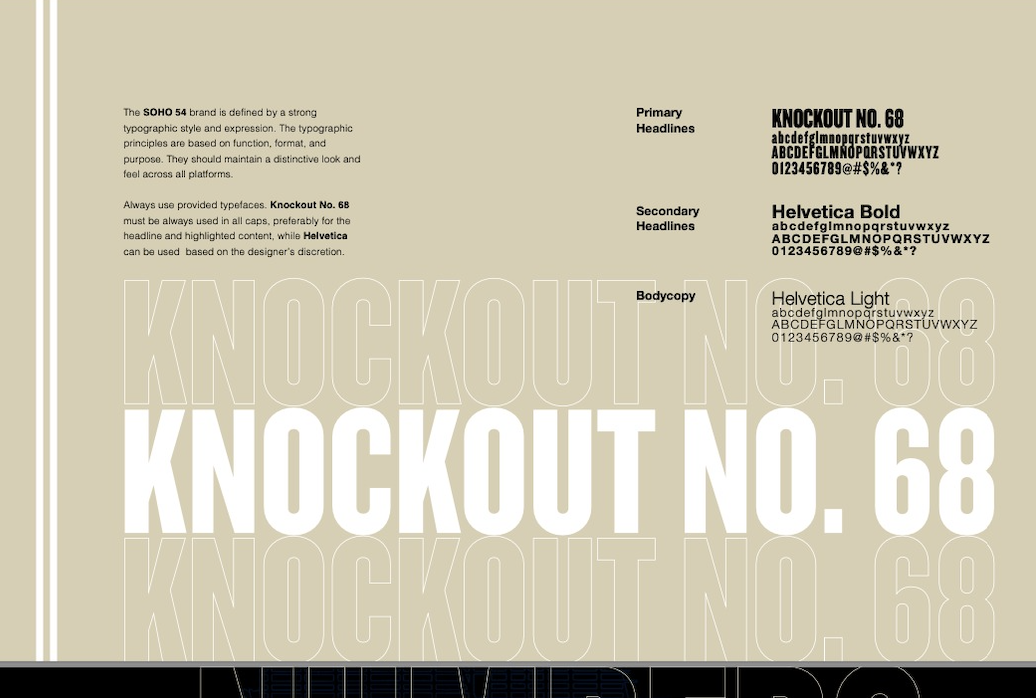 And here are those same fonts in action…
Located in the heart of the famous SoHo neighborhood in NYC, SoHo 54's fonts embody the spirit of Manhattan's creative hub. The fonts mix "in-your-face" fashion industry-inspired headlines with subtle but authoritative body text to speak to those looking for the trendy New York experience they see on TV and in magazines.
Here are the fonts we selected for Grayson Hotels...
And here are those same fonts in action…
Taking inspiration from the 2022 Met Gala "Gilded Glamour" theme, Grayson Hotel's font selection blends Manhattan's industrial history with its modern high-end, chic culture to create a more exclusive feel. The fonts embody the midtown Manhattan personality with thin, wavy titles and large headlines providing a straight-off-the-runway feel for those looking to live like a debutante for a weekend.
Here are the fonts we selected for The Lucky Inn...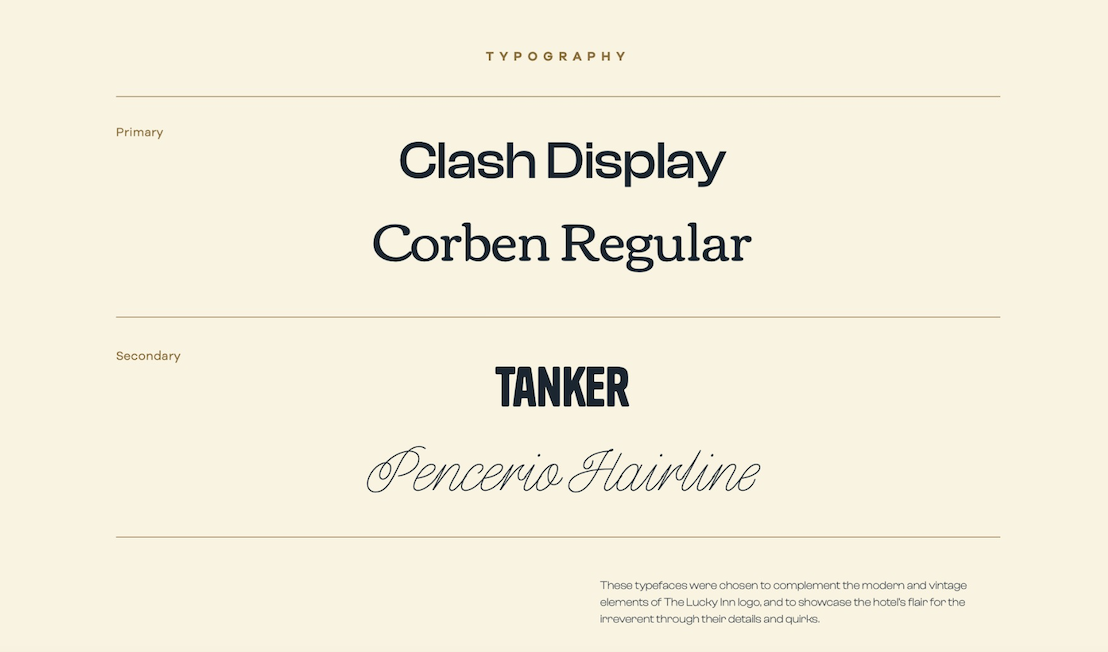 And here are those same fonts in action…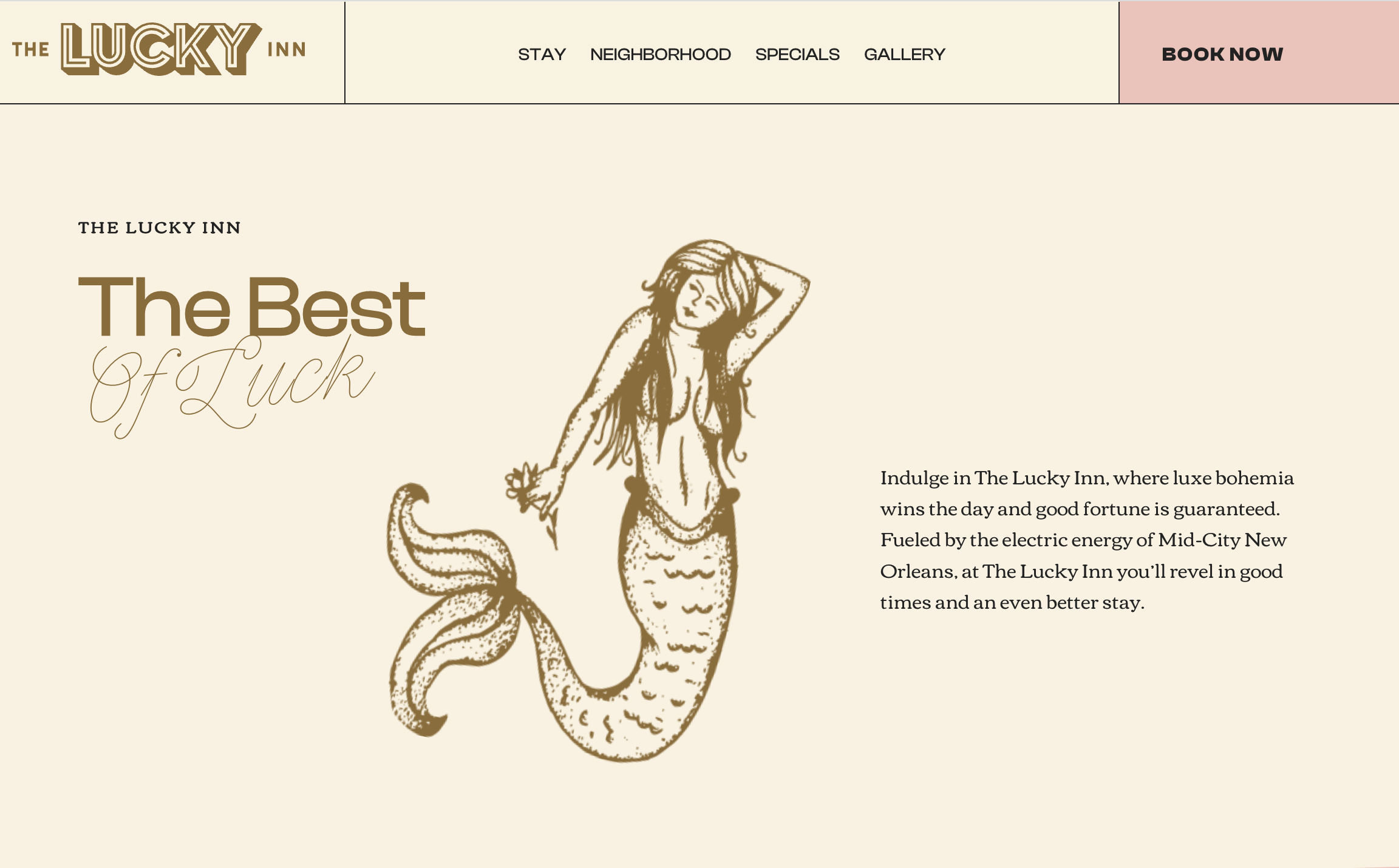 The Lucky Hotel is a boutique hotel in New Orleans, a city famous for its rich American history and jubilant nature. To match the city's energy, Tambourine designers chose four distinct fonts to create a casual and adventurous experience for the guest looking for something less trendy and more authentic. The combination of these fonts throughout the hotel's website mimics the experience of discovering a small town on a road trip.
How does your hotel's font and typeface tie into your hotel's brand identity?