Thinking about a brand refresh? Here's some inspiration.
A strong brand is crucial if you want to stand out in a competitive market, build trust and recognition, ensure consistency in guest experiences, and foster emotional connections.
But where do you start? Branding begins with research.
We dive deep into what makes a hotel unique. We do our homework on what others in the marketplace are doing—and we look far beyond that, too. We seek inspiration from other industries; across digital, print, and every iteration of brand and narrative. We search for a spark, and we let the story unfold from there.
This week, our designers are sharing their starting points for a few recent branding projects to help inspire your next rebrand.
Grayson Hotel
"Grayson Hotel is a brand new hotel in the middle of Manhattan. Taking inspiration from the 2022 Met Gala's 'Gilded Glamour' theme, we took New York's industrial history and mixed it with Manhattan's of-the-moment high-end, chic culture. Using this as a guide, we set out to fuse historic and modern-day design elements to create the perfect midtown feel." – Diego, Lead Designer



Lucky Inn
"Situated in the vibrant city of New Orleans, renowned for its captivating American heritage and lively atmosphere, stands the charming Lucky Inn. In order to capture the essence of the city, we carefully crafted an ambiance that is both laid-back and bold using hand-drawn design elements inspired by classic tattoo flash art. The brand was built to cater to the bold adventurous travelers seeking an authentic experience rather than following fleeting trends." – Evgeniia, Lead Designer

The Grand Maloney Hotel
"The Grand Maloney Hotel is a charming six-guest room hotel in Key West, Florida run by the Maloney family. The family's coat of arms is the inspiration behind the logo. The bow and arrow, which is the master key, is a nod to both the family's heritage and the family-run business and signifies the importance of "family" to the Maloneys. We added fun elements and shapes like the rooster and palm tree illustrations to give the branding an elevated hand-made, approachable, and Key West feel. The challenge was to carefully blend approachable and luxury design elements to tell the Maloney family's and the property's narrative." – Ignacio, Senior Art Director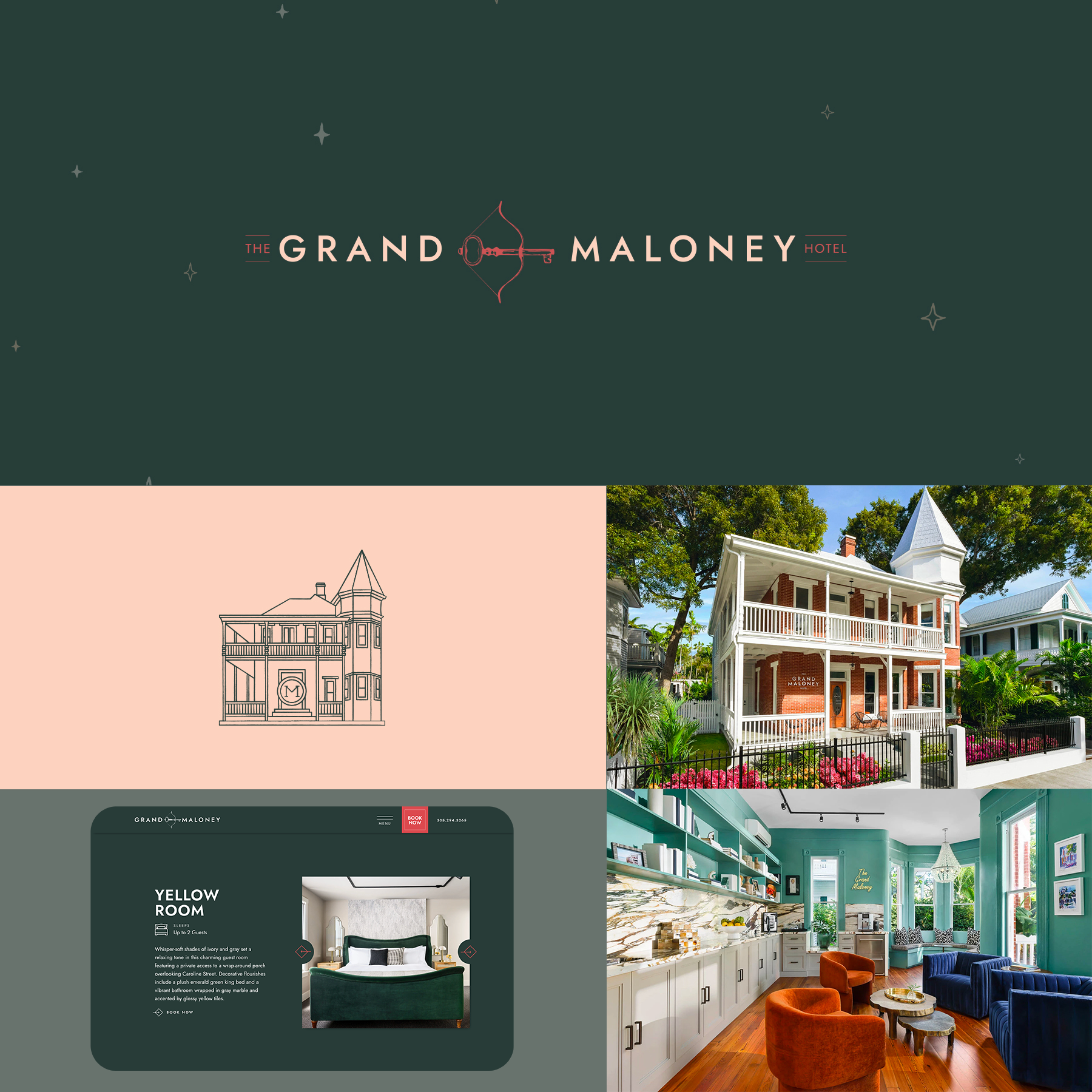 Spice Island Beach Resort
"Spice Island Beach Resort's branding revolves around the history of the island of Grenada. We weaved in the island's natural elements — spices, architecture, and wildlife — to create an authentic brand world and give potential customers a taste of what the island has to offer." - Sebastian, Senior Art Director
Hotel branding is crucial for differentiation, trust-building, and creating consistent guest experiences. Drawing inspiration from examples like Grayson Hotel's fusion of history and modernity or Lucky Inn's authentic ambiance, hotels can craft their own unique brands that resonate with guests and stand out in a competitive market.