Welcome to the Friday Freebie!
Each week we share one impactful hotel marketing tactic that you can implement immediately to drive more conversions and more revenue. 
This week's Freebie: Your guests are creating FREE ultra-creative marketing content almost every day. Here's how to uncover that treasure trove of evangelism!
Right now as you read this, a guest is documenting their stay at your property and posting it on Instagram for all their followers to see.
From breakfast in bed to epic balcony sunsets, these photos and videos are far more authentic, unique and imaginative than anything the most creative hotel marketer can come up with consistently. Plus, your guests' posts carry more influence since they are authentic, not manufactured. This SOCIAL PROOF builds validation and inspires their followers to consider a stay. You can collect these posts and use them for future marketing collateral (with permission) or to repost on Instagram to your own audience.
In other words – Your guests' Instagram posts are precious marketing gold. And, the goodies just keep flowing in. 
Only problem is that many of these photos and videos are 'hidden.' You'll only be notified of a guest's post if they happen to use your official Instagram account name, otherwise known as a 'handle.' So, if a user leaves that out, you may never see their post.
Unless, you get proactive.
Here are three easy and proactive ways to unearth guests' Insta content:
Search the generic name of your hotel. For example, the Grafton on Sunset (@graftononsunset), should search 'grafton hotel' or 'hotel grafton' to catch any posts where guests used those names.

Search any property specific hashtags that a guest might have used instead of your handle, like #graftononsunset or #hotelgrafton

Monitor your property geo-tags, an automatic label that is marked when an Instagram user posts from your location.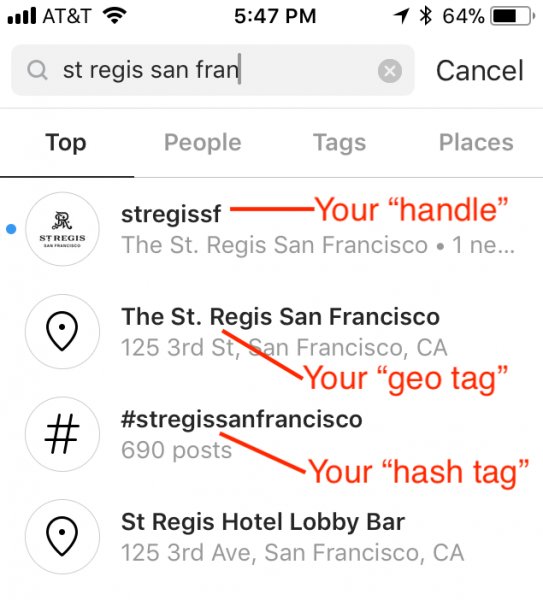 Monitor these three methods daily to catch any timely content, as well as to catch any feedback or comments that guests make about their hotel experience.
Get More: Why Every Flagged Hotel Should be Rethinking Instagram
---
About Tambourine
Tambourine uses technology and creativity to increase revenue for hotels and destinations worldwide. The firm, now in its 33rd year, is located in New York City and Fort Lauderdale. Please visit: www.Tambourine.com